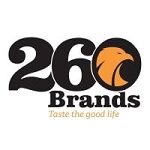 Website 260 Brands
Taste the Good Life
The Agronomist is to assist the Supply Chain Manager in grain procurement from 260 Brands' small holder farmer base, supporting the Regional Manager with procurement activities with small holder farmers. The Agronomist will also carry out critical training and sensitization meetings with the local small holder farming community, working to improve yields and impact with small holder farmers. The Agronomist is expected to be based at 260 Brands' depot in Kasama, Northern Province. The work will be carried out primarily in Northern, Muchinga and Luapula provinces, with potential opportunities to travel to other areas as well.
Key Responsibilities:
1. Evaluate and recruit small holder farmers and negotiate off take agreements.
2. Deliver agricultural extension services to the local small holder farming community.
3. Train the local small holder farming community in Good Agricultural Practices (GAP), Conservation Agriculture among other topics.
4. Carry out relevant community meetings to inform the small holder farming community of relevant updates, spread awareness of 260 Brands' procurement activities and sensitize small holder farmers on various matters.
5. Communicate directly with the Project Manager amongst others regarding project activities.
6. Carry out small holder farmer location mapping.
7. Visit and assess the hectorage and yields of farmer fields in anticipation of the harvest season.
8. Conduct procurement of crops from small holder farmers in soya and maize, among others, during harvest season.
9. Identify and execute cost optimizations of the grain procurement process.
10. Conduct weekly and monthly small holder farmer activity reporting.
Key Qualifications:
1. Diploma in Agriculture or equivalent
2. Language: Fluent in English, Bemba and Nyanja
3. 3 years relevant work experience in the agricultural sector as an agronomist or extension officer
4. Extensive knowledge of organic farming and organic certification requirements
5. Extensive knowledge of small-scale agribusiness and farming
6. Skills: Excellent coordination, training and communication skills
7. Be willing to relocate in Kasama, Northern Province
For all interested candidates, please email a cover letter and resume as well as copies of your educational qualifications to [email protected].
Please also fill the short survey at the link found here.