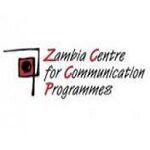 Zambia Centre for Communications Programme (ZCCP)
Zambia Centre for Communications Programme (ZCCP) is a not-for-profit, locally based multi-media communications organization, which uses the power of the mass media (radio, TV and print) and social mobilisation to reach the Zambian population on social and behaviour change. ZCCP uses a rigorous formative research process to generate appropriate edutainment content relevant to health and development priorities in Zambia.
ZCCP is implementing the USAID Stop Gender Based Violence (GBV) project which is aimed at strengthening the environment for target population (girls and women, boys and men, and members of key/priority populations) including people living with disabilities , to live lives free of GBV and enjoy healthy-supportive, gender-equitable relationships.
ZCCP is looking to recruit a PERSON WITH DISABILITY to fill up the following position:
Job Title: Administration Assistant – (1)
Station: National Office (Lusaka)
Reporting lines: Grants Manager
The Administration Assistant  plays a significant role in delivering high-quality Services for the USAID Stop GBV Project in line with our strategy and tailored to our key target audiences. Reporting to the Grants Manager,  the Administration Assistant will have primary responsibility of taking care of all Administration work at the regional office.
Duties and Responsibilities
Executive Director's Office
Serving as Personal Assistant
Managing Diary/Appointments
Serving as Administrative Assistant for the following:
Senior management and all staff at National and Regional offices.
All the 16 implementing district offices.
Office Administration
Attending to the day to day administrative enquiries, needs, and requests.
Managing the reception/receiving visitors and other stakeholders.
Office Security-Timely tracking performance of security contracts, renewals, submission of monthly payment requisitions and period statement reconciliations.
Coordinate the settlement of monthly internet bills and follow credit notes were applicable.
Courier/delivery services-Coordinate all courier and delivery services.
Managing Incoming mail schedule both electronics and physical.
Line manage the cleaners for the cleaning of office space and surrounding at both National and Regional Offices
Ensuring good maintenance of all office equipment and furniture.
Assisting with coordinating events, hiring of venues, and proactively follow up vendor payments with the finance department.
Efficient management of filling system, storage and archiving of project documents in line with organisational policy and best practice.
Timely submission of monthly payment requests for staff talk time, data bundles and office utilities and cleaning services.
Timely submission and filling of annual returns and renewal statutory operating licenses such as NGO's act and societies act.
Track tenancy agreements for all ZCCP rented properties in all 16 implementing districts, regional,National offices and ensure timely renewal and settlement of rentals.
Track insurance cover of all officer equipment,furniture,ensure timely renewal and promptly follow up insurance claims.
Assists in raising requisitions, local purchase orders and bid analysis for all administration related procurements. Proactively follow up payments with the finance department.
Stores Management
In charge of receiving all procured administration supplies, groceries and raising of goods received notes (GRN's)
Issuance and tracking of all office supplies and equipment.
Responsible for the management of office canteen supplies.
Any other duties as assigned.
Qualifications and Core Competencies
Full grade twelve certificate.
Diploma or Certificate in Business Administration, Public Relations or any related field.
Minimum of 2 years practical professional work experience in a similar capacity.
Proficiency in the use of Microsoft Excel and Word
Excellent interpersonal skills
Willingness to learn
Excellent time management skills
Experience in an NGO or donor funded project is an added advantage
Excellent oral and written English communication skills
Experience in providing administrative support to people in different locations
Demonstrated excellent coordination skills required
ZCCP is committed to the protection of children and adult project beneficiaries from all forms of abuse and sexual exploitation. All employment is conditional upon the successful completion of all applicable background checks, including signing of the Child Protection Policy.
Method of Application
If interested in the advertised position, visit our website www.zccpkwatu.org, download and complete our ZCCP Application form and send it with your CV to [email protected]. Note: Only the CV and ZCCP Application form should be sent. Closing date is 9th April, 2021.
ONLY PERSONS WITH DISABILITY SHOULD APPLY FOR THIS JOB