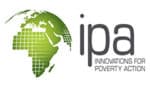 Innovations for Poverty Action (IPA)
Position: Administrative Assistant
Deadline: Applications reviewed on a rolling basis
Duration: One Year (renewable)
Start Date: ASAP
Location: Lusaka
Eligibility: Local hire only
About Innovations for Poverty Action: is a non-profit organization dedicated to discovering and promoting effective solutions to global poverty problems. In close partnership with decision makers – the policymakers, practitioners, investors, and donors working with the poor around the world — IPA designs and evaluates potential solutions to poverty problems using randomized evaluations, the most rigorous evaluation method available. We also mobilize and support these decision makers to use these solutions to build better programs and policies at scale.
Position Summary
Innovations for Poverty Action (IPA) seeks a qualified Administrative Assistant to join the team of the IPA Zambia Office. This position is responsible for assisting in organizing and coordinating office operations and procedures to ensure organizational effectiveness and efficiency in this office. The incumbent will assist in office administrative activities, including the reception area, mail, visitor logistics, and small and large purchase requests. The Administrative Assistant will report to the Country Director and work closely with all office staff.
Duties and Responsibilities:
1. Office Management
Manage logistics for office meetings & project training;
Manage storage and inventory of office supplies, consumables, projects items, and stationery;
Monitor and manage utility bill payment in the office, including telephone, internet, electricity, rentals, water, etc;
Assist in the disposal of items in the storage room;
Assist prepare all outgoing mail, faxes, courier parcels, and any other official correspondence;
Assist in schedule and coordinate travel bookings, hotel payments, airport pick-up, conferences, department activities for all local staff and international visitors.
2. Maintenance and repairs
Manage all repairs and routine maintenance work in all the premises of IPA in Lusaka, including office and IT equipment, communications, etc.;
Generator management responsibilities: Liaise with the mechanic on technical issues related to the generators, including preparation of orders for consumables and spare parts; Assist with the scheduling, servicing, ordering fuel and oil for the generator.
3. Other
Carry out other duties as shall be assigned from time to time by Country Director as part of IPA Z daily activities.
Desired Qualifications and Experience
First Diploma/ Degree in Business Administration, Public Administration, Human Resources Management, any relevant field.
Computer literacy and IT background is a plus.
Ability to maintain a high level of accuracy in preparing and entering information.
Effective written, verbal and listening communication skills.
Attention to detail, good planning and organizational skills.
Well-developed interpersonal and communication skills; professional appearance and manner.
2+ years of experience.
Required Attributes
The incumbent must also demonstrate the following personal attributes:
Be honest, trustworthy, and be respectful;
Possess cultural awareness and sensitivity and be flexible;
Self-motivating, able to manage multiple tasks efficiently;
Team player;
Demonstrate sound work ethics.
Only shortlisted candidates will be contacted for an interview. Applicants are encouraged to apply early, as applications will be reviewed on a ROLLING BASIS.
DISCLAIMER: The above statements are intended to describe the general nature and level of the work being performed by the Administrative Assistant, IPA Zambia. The statements are not intended to be an exhaustive list of all possible duties, tasks, and responsibilities. Management reserves the right to amend and change responsibilities to meet organizational needs as necessary. Please note that IPA will never request any form of payment from an applicant. Applicants are encouraged to confirm the information listed above with IPA.