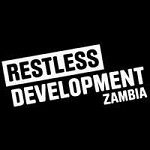 Website Restless Development Zambia
We know young people have the power to solve the challenges we face in our world, but they are being ignored and overlooked. We are the agency that works with young people so they can lead in solving those challenges. Whether that means supporting communities to end child marriage or prevent HIV, we work with young people to change their lives and the lives of people in their communities.
Our programmes are genuinely life-changing, but can't do any of this without talented, creative individuals at every level of our organisation.
OUR APPROACH TO SAFEGUARDING
Restless Development considers the welfare and protection of children, young people and vulnerable adults to be an organisational imperative with primacy over the success of programmes or strategic objectives. We recognise that safeguarding is everyone's responsibility and we expect all of our staff, volunteers and partners to ensure we protect the communities in which we operate from harm and abide by our Safeguarding Policy.
ABOUT THE ROLE 
Restless Development Zambia has since 2003, been equipping youth to voice their priorities; facilitating their access to decision makers for accountability; and supporting platforms for youth to demonstrate that they are effective change agents. We strengthen government, institutional and civil society partners' capacity to engage with youth. Our evidence based policy engagement is unique in its approach, cutting across government, private sector and the NGO sector and this has set us apart as an innovative partner in development.
We are seeking a dynamic and talented Administrative Assistant to ensure the highest standards in performance and accountability are achieved across the agency. Based in our Head Office in Kabwe (with regular travel to other operational locations including to Suppliers), you will ensure our team is delivering the highest standards of Procurement.
Working under the leadership of the Assistant Operations and Procurement Coordinator, you will also be expected to drive your own performance to meet or exceed the targets set against our strategy and business plan.
The successful candidate is expected to be highly systems and processes oriented, ensuring that up to date information is available, analysed and acted upon by the Leadership Team to address the level of risks and challenges to the performance of the business units.
ABOUT THE ROLE
Job title: Administrative Assistant
Location: Kabwe
Salary: ZMW 80,388 Basic Per Annum
Preferred start date: TBA
Length of contract: 1 Year
Visa requirements: Must have the right to work in Zambia
Reports to: Assistant Procurement and Operations Coordinator
Direct reports: None
Expected travel: National travel will be required (approximately 10%)
KEY PRIORITIES
The Administrative Assistant Scope of work will be supporting the Administrative and Operations systems across our Offices in all locations we operate from;
1. Strengthening Administrative Systems and Processes
Develop and use sound administrative systems
Assist in coordinating local staff travel and accommodation bookings, arranging logistics for quarterly  staff workshops and meetings
Manage office inventory and keep track of all receipts and issues as well conducting monthly stock counts
Maintain a tracking system for all office utilities across our offices of operation and all outstanding bills.
Develop an effective filing system for all inventory records, office records and related supporting documents.
Ensure that systems are in place to manage office furniture, building and vehicles for day-to-day operations
2. Administration Management & Coordination
Lead on any maintenance and repairs needs across all the offices and the contents of the offices
Ensure that there is adequate supplies and PPEs for staff to use during working hours
Ensure that the offices are well maintained and are always in a pristine condition for proper and smooth business activities
Ensure that all our offices are safe for use in line with our internal safeguarding policies and  that we are compliant with the relevant authorities and safety regulations (Fire certificates, NGO registration, Security and emergency services are in place including insurance of equipment)
Support with the front desk duties
Support with receiving GRNs and receipts for project stationery and other purchases and following with suppliers where necessary
Support with the management of office utilities and ensuring that all outstanding bills are paid for in prompt manner
Support in the management of the Transport coordination tool and ensure that there are no conflicting trip requests for all project activities.
Support with completion of Purchase Requisitions for Admin related procurements,  sending Local Purchase Orders, following up with suppliers on delivery of office supplies and goods/ services
3. OTHER
May be occasionally be required to work on weekends and/or public holidays for which time off in lieu will be granted.
Other duties as required.
SKILLS AND EXPERIENCE
Essential;
Graduate-level degree in relevant field of Supply and Purchasing, or equivalent work experience.
Experience in monitoring Procurement risks, and workplan forecasting against plans and targets
Proven success in cultivating relationships with external stakeholders such as Suppliers.
Commitment to Restless Development's values and mission (see website)
Excellent written and oral communication skills in English
Excellent IT skills, especially Excel, Power-point, and Word.
Be results oriented and forward-thinking, with demonstrated analytical skills.
A role model, able to gain the respect of the management and wider staff team.
Desirable;
Experience in collecting and analysing data.
Knowledge of sourcing and procurement techniques.
Experience of oversight of multiple teams and units
Proven success of remotely managing field offices
Person Specification;
The Individual must be results orientated, highly self-motivated and have demonstrated analytical skills and ability to communicate effectively.  The successful candidate will thrive in a multicultural environment as part of a rapidly growing and developing organisation and be personally committed to Restless Development's mission and values.
How to Apply
Please send a completed application form to [email protected] by 4th December, 2021 indicating Subject as "APPLICATION_YOUR NAME_ADMINISTRATIVE ASSISTANT".
Interviews are scheduled to take place on a date to be advised.
Please note that we do not accept CVs or covering letters.
Click Here to download the Application Form
Click Here to download the Job Description