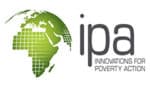 Innovations for Poverty Action (IPA)
Innovations for Poverty Action (IPA) is a non-profit organization that creates and evaluates solutions to social and development problems and works to scale up successful ideas through implementation and dissemination to policymakers, practitioners, investors, and donors. IPA is looking for a serious and motivated candidate to fill the open position of Administrative Assistant. This position will be based at the country office in Lusaka.
Position summary.
Innovations for Poverty Action (IPA) seeks a qualified Administrative Assistant to join the team of the IPA Zambia Office. This position is responsible for assisting in organizing and coordinating office operations and procedures to ensure organizational effectiveness and efficiency in this office. S/He will assist in office administrative activities, including the reception area, mail, visitor logistics, and small and large purchase requests. The Administrative Assistant intern will report to the Country Director and work closely with all office staff.
The Administrative Assistant core responsibilities will be as follows:
Office Management;
Manage logistics for office meetings & project training.
Manage storage and inventory of office supplies, consumables, projects items, and stationery.
Assist in the disposal of items in the storage room;
Monitor and manage utility bill payment in the office, including telephone, internet, electricity, rentals, water, etc.;
Assist prepare all outgoing mail, faxes, courier parcels, and any other official correspondence;
Assist in schedule and coordinate travel bookings, hotel payments, airport pick-up, conferences, department activities for all local staff and international visitors;
Maintenance and repairs;
Manage all repairs and routine maintenance work in all the premises of IPA in Lusaka, including office and IT equipment, communications, etc.;
Generator management responsibilities: Liaise with the mechanic on technical issues related to the generators, including preparation of orders for consumables and spare parts;
Assist with the scheduling, servicing, ordering fuel and oil for the generator.
Desired Qualifications and Experience;
First Diploma/ Degree in Business Administration, Public Administration, Human Resources Management, any relevant field.
Computer literacy and IT background is a plus,
Ability to maintain a high level of accuracy in preparing and entering information
Effective written, verbal and listening communication skills,
Attention to detail, good planning and organizational skills,
Well-developed interpersonal and communication skills; professional appearance and manner
2+ years of experience.
Required Attributes:
The incumbent must also demonstrate the following personal attributes;
Be honest, trustworthy, and be respectful,
Possess cultural awareness and sensitivity and be flexible,
Self-motivating, able to manage multiple tasks efficiently; a team player.
Demonstrate sound work ethics
Duration and Terms
How to Apply:
Address your application to;
The Human Resources
Innovations for Poverty Action
26 Mwambula Street, Jesmondine,
Post. Net box 653, P/bag E891, Manda Hill,
Lusaka, Zambia
Please upload your C.V with a Cover Letter by clicking on this link: Administrative Assistant
or drop it at Innovations for Poverty Action offices situated at Plot No. 26 Mwambula Road, Jesmondine, Lusaka.
The deadline for applications is Saturday 16th October 2021. First CVs will be examined in priority.