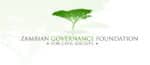 Website Zambian Governance Foundation
The Zambian Governance Foundation for Civil Society's mandate is to strengthen local communities and civil society capacities to unlock and utilize available and untapped resources for sustainable development. ZGF has a strong belief that local communities have the power and resourcefulness to shape their own development without relying on external aid. To achieve this, ZGF has been providing access to grants, capacity development and other resources to local CSOs and CBOs across Zambia, using a non-thematic approach, and working with communities to nurture community philanthropy.
ZGF now wishes to recruit an Accountant who fully subscribes to ZGF's ethos and actively supports the programme team in advancing civil society and community development. S/he plays a central role in facilitating local income generation through its social enterprise wing and assists with the transformation of the organisation to a community philanthropy organisation.
Under the general supervision and guidance of the Finance Manager, the incumbent will be responsible for accounting function involving receipts and expenditure, bank reconciliations, accounting entries and records, financial reports and all that is necessary to meet the obligations of ZGF. The applicant must have a Bachelor's degree in accountancy with part ACCA or CIMA or equivalent and be a member of ZICA. 3 years relevant experience is required.
To apply for this position, send an application comprising application letter, CV and copies of relevant certificates to [email protected], drop it in person at 9 Mansansa Close, Rhodes Park, Lusaka, or post it to ZGF, P.O. Box 32615, Lusaka. If you send your application by post, please indicate the job title on the envelope. The full job description for the position can be downloaded from ZGF's website – www.zgf.org.zm. The closing date for receiving applications is Friday 5th February 2021. Should we decide to take your application further, we will get in touch with you.
ZGF offers selected candidates a competitive salary package.
ZGF is an equal opportunity employer.
9 Mansansa Close, Rhodes Park, Lusaka, Tel: +260 211 239413, Fax +260 211 238380, e-mail: [email protected]